You can have Spiderman swinging through your child's bedroom in no time with easy to apply Spiderman wall decals. Scatter smaller ones around the room or go with one large mural like the ones at the end of this page. Either way, you'll have a great themed room in no time.
Spiderman Wall Decals
We've got collections of small stickers and huge single images here.

At RoommatesDecor.com

At RoommatesDecor.com

At RoommatesDecor.com

Ultimate Spider-Man Decals
At RoomMates
22 stickers total
Smaller size makes them great for putting on furniture, trash cans and the like

Spider-Man – Swing
At Fathead.com

Venom – Ultimate Spider-Man

Ultimate Spider-Man Giant Decal
At RoomMates
Coordinates with the set just above
Assembled size 34″ x 53″
Also a few of smaller stickers you can use elsewhere

Classic Comic Book Images
Several versions of the web slinger, along with the Green Goblin and Dr. Octopus
Spiderman Wall Border Designs
Just a few here, but some good designs. These are easily used in other places besides the wall, like across drawer fronts or on doors.

Spider-Man 3 Peel & Stick Wall Border

Spiderman Spider Sense 3D Peel and Stick Wall Border

Marvel Spiderman Yellow Web Wallpaper Wall Border
Spiderman Wall Murals
Big, dramatic and bold designs here. I love the ones where he's crashing through the wall the best.

Art.com Wallpaper Mural – The Amazing Spider-Man
At Target.com

Ultimate Spider-Man Mural
At Fathead.com

Marvel Spider-Man Classic Peel and Stick Mural Wall Art
At BedBathBeyond.com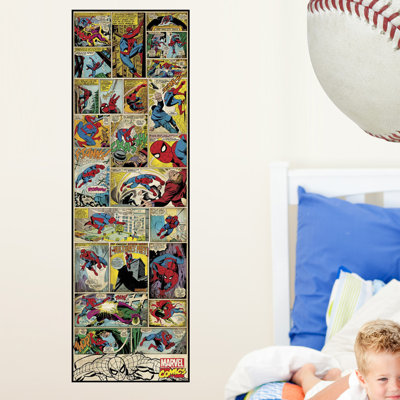 Marvel Comics Spiderman Classic Collage Wall Mural
from: Wayfair

Spiderman 3D Cracked Wall Sticker
At Amazon.com

Spider-man Window 3D Wall Decal
At Amazon.com

Cobweb Wall Decal
At Amazon.com