Baseball, soccer, football – who can pick just one? It's likely your child plays more than one sport, so why not do their bedroom up in more than one? Decals and murals are a quick and easy way to make that happen with images from balls to athletes to the screaming fans.
I've collected stickers, borders and murals here that are general sports in nature. There are tons more to be had for each specific game type, but this set is for general fans. The groups of decals typically include a design for football, basketball, baseball and soccer. Occasionally you'll see something for hockey or golf or tennis thrown into the mix, but the main four are usually the direction it goes. Colors range from reds and blues to browns and tans, sometimes with a little green for added interest.
Sports Wall Decals
For the most part, these are groupings of various gear used to play different sports. The typical collection is a baseball, a basketball, a football and a soccer ball. Occasionally you'll find tennis or golf or hockey, but mostly it's the big four. Rarely do I ever see a set with a volleyball.

Sports Balls Peel and Stick Wall Decals
At RoommatesDecor.com

All Star Sayings
At RoomMates
24 stickers total
Includes sayings "MVP," "team player," "hall of famer" and others

Wallmonkeys LLC Tree Sports Wall Decal
At Walmart.com

NoJo Play Ball Wall Decals
At BuyBuyBaby.com

DecalMile Sports Wall Decals
At Amazon.com
Holy cow – there's a bowling ball!

Assorted Graphics
Includes two small Fathead logos

Varsity Pennants Giant Wall Decals
At RoomMates

All Star Sports Wall Decal Stickers by Sweet Jojo Designs – Set of 4 Sheets
Great Wallpaper and Wall Border Designs
Typically images of all the various gear

Neutral All Sports Border
At Amazon.com

Sports Wallpaper Border Retro Design
At Amazon.com

Sports Wallpaper Border 
At Amazon.com

Cool Kids Varsity Number Wallpaper
At Amazon.com

Glavine Sports Figures Toss Wallpaper
At Amazon.com

SandyLion Wall Borders: Sports Fun

All Star Sports Baby and Kids Wall Border by Sweet Jojo Designs

Lambs & Ivy Sports USA Wallpaper Border 8"x30"
Sports Wall Murals

Close Up Shot of Well Worn Baseball in Baseball Glove, Football and Basketball – Removable Wall Mural 
At Amazon.com

Sports Equipment
Prices start at $150 at MagicMurals
Three sizes to choose from or make it custom sized

Academy and College Sports Collage
Prices start at $192 at MagicMurals
Three sizes to choose from or make it custom sized
Change to B&W or sepia if red doesn't work for you

Team Sports 20264 Wall Mural
Actually comes in three pieces – the main mural, a baseball and glove and a gear collection. Allows you to spread it out around the room a bit if you like. Includes the main five.
Customizable Murals
These come from Murals Your Way and are customizable in several different ways. They'll add your child's name to the mural, add or remove sections to make it the exact size you need and even change some of the colors on some. Pretty cool. These are the general sports designs they carry; they have tons for specific sports, but not many that are general. Prices start at around $200 and go up depending on the size, material and amount of customization.


Puppy Athletes Mural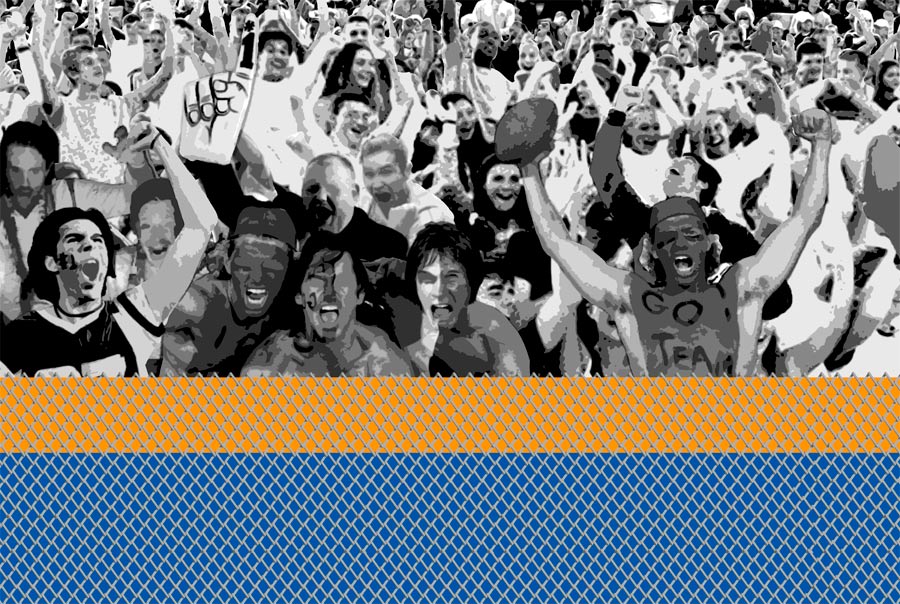 Buzzing Stadium Fans
Comes in blue and gray
Great background if you already have the theme in other parts of the room