Star Wall Decals
Stars on the walls are a great idea – they work with so many bedroom themes. Go with glittery ones for rocker style or shooting ones for a space bedroom. There are tons of choices and they're so easy to use in decorating!
We have several options here – graphics that incorporate them into a greater design like the wallpaper in the picture here and packs with tons of individual lights that you could place all over however you like. They have the advantage of flexibility so they can be used on the walls, furniture and doors.
There are also some great wallpaper designs that allow you add an entire galaxy in one fell swoop if you're handy with the paste. (I'm not. So not handy with wallpaper, which is why I like the stickers in general. Just so much easier to apply and take care of.)
Star Wall Decals
Designs big and small to suit your space
We've got a wide range of designs here, some with single stars and others with tons of stickers. Some of them include a range of colors, while others come in just one. But you get to pick your own color and usually even the size so you can target it to fit the space you have planned for the design.
OK, so the lights in the sky are pretty much white to our eyes, occasionally a red one might show up. And a lot of the designs here come in metallics and white to mimic nature and reality. But do they have to be those colors to truly call them stars? Heck, the shape we call a star isn't exactly what it looks like in reality, so does the color matter?

Silver Star Decals
At PotteryBarnKids.com

Gold Starburst Wall Decals
At PBTeen.com

Crearreda Stars Glow in the Dark Decals

To Infinity Stars Wall Decal Set
At Project Nursery
includes 136 assorted stars
ranges in size from .75″ to 1.5″
Your choice of more than 60 colors

Twinkle Stars Wall Decals
At Project Nursery
Includes 150 individual stars
ranges in size from 1/4″ to 3″
Your choice of 28 colors

Scattered Stars Wall Decal
At Project Nursery
includes 100 stars, ranging in size from 0.5″- 4.5″

Star Wall Decals
At Project Nursery
includes 8 individual stars
Each star is 13″ x 13″
Your choice of 28 colors

Colorful Stars Peel & Stick Wall Stickers / Decals / Appliques
Your choice of several colors

68 Silver Stars Wall Sticker Decals Art Graphics Decor

Retro Stars Fabric Wall Decals, Set of 22 Mid Century Modern Stars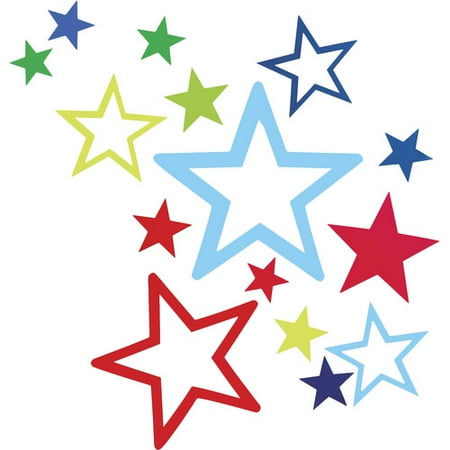 Wallies Peel and Stick Stars in Stars Wall Decal
At Walmart.com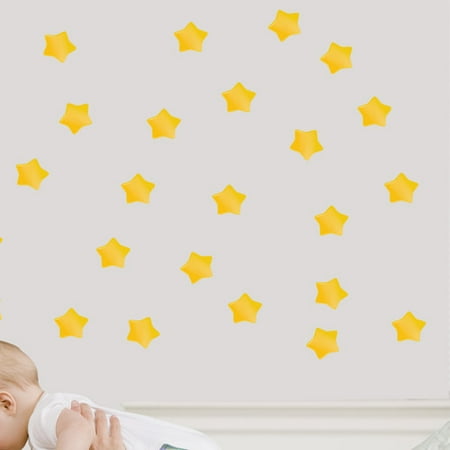 Wallhogs Soft Star Wall Decal
At Walmart.com
Comes in several colors
Unique Designs of Star Wall Decals
Shooting, falling and other looks
Many of these give you a choice of color and size. The designs are really cool and some do offer a little flexibility in how you apply them around the room. But for the most part, we're talking about looks that are meant to be dramatic and spice up a single area.

Decoration wall sticker wall mural decor-Make you happy star circle (TWO SET)

Large–easy Instant Decoration wall sticker wall mural Deco-Stars

Large–Easy instant decoration wall sticker wall mural–Star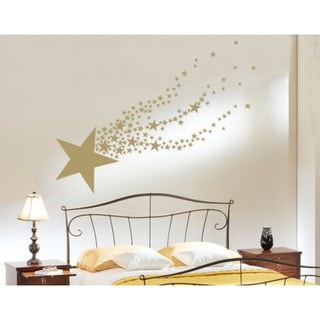 Shooting Star Wall Decal
At Overstock.com
Great Quote Graphics
Love these ideas with quotes we recognize related to celestial beings. Some are nursery rhymes, others lines from Disney and others simply inspirational.

Twinkle Twinkle Little Star Quote Decals with Glitter
At RoommatesDecor.com

Shoot For The Moon! Even If You Miss, You'll Land Among The Stars wall saying vinyl lettering art decal quote sticker home decal

TWINKLE TWINKLE LITTLE STAR….WALL QUOTES SAYINGS WORDS LETTERING DECALS ART, BROWN
Speciality Star Wall Decals
Chalkboards and mirrors
Well, these decide the color issue, don't they? The mirrored versions definitely give you the star twinkle in sizes small and large.

Peel & Stick Mirror
at RoomMates
One big design that's 11″ across

Glow in the Dark Star Peel and Stick Wall Decals
At RoommatesDecor.com

Star Peel and Stick Wall Decals with Foil
At RoommatesDecor.com
Star Wallpaper and Border Designs
Run a string of stars around the edges

York Wallcoverings Candice Olson Kids CK7725B Constellation Border, Black

Lucky Star Wallpaper
At Project Nursery

Star Peel & Stick Wallpaper – Grey
At RoommatesDecor.com
Star Wall Murals

JP London MD3A082 4.5-Feet High by 4.5-Feet Wide Removable North Star Teen Wall Mural

JP London MD3A090 8.5-Feet High by 10.5-Feet Wide Removable Full Wall Star Light, Star Bright Children's Mural