Take your bedroom from Clark Kent drab to Superman snazzy with decals, borders and murals featuring the Man of Steel. You can go with one huge Superman decal, lots of small ones or some really great murals that take up an entire wall.
Expect to see some new designs come out this summer once the new movie arrives. Finally. I swear we've had 14 Batman movies while waiting for this one! All the current ones are images from the comics and cartoons, so it will be nice to have a few photorealistic movie shots. Based on the ones for the Avengers last year, we should get large individual shots of Superman (probably even as Clark Kent) and any other major characters, as well as a few group murals.
If you want to paint the walls blue behind the stickers, that works fine as long as you account for enough contrast with the blue of Superman's tights. You'll notice the light blue choice in many of the pictures here.
Superman Wall Decals
If you've already got several images of Superman in flight or standing – let's say on bedding or a blanket – you might want to stick with graphics using the "S" logo from his chest. Because it's pretty much red and yellow, it'd look great on a blue wall, just like the blue of his suit. The one from Fathead is huge, of course, and would look great as a feature over the bed. The Alphabet Garden Designs one comes in much smaller sizes and a ton of colors, so you don't have to use it in red or yellow if you're going with a slightly different color scheme than the traditional primary colors. The just-released designs using images from the new movie "Man of Steel" give you the option for some darker shades of blue.

Superman Man of Steel Distressed Graphic Peel-and-Stick Giant Wall Decals
At Walmart.com

Day Of Doom Giant Decal
At RoomMates
Assembled design 30.5″ x 42″

Superman Logo
At Fathead.com
4'1″W x 3'1″H

Superman – Batman v Superman
At Fathead.com

Superman – DC Infinite Crisis
At Fathead.com

Superman: Justice League
At Fathead.com

Man of Steel
At Fathead.com

Superman Quote Peel and Stick Wall Decals
At RoommatesDecor.com

Superman Phone Booth Large Wall Decal
At Amazon.com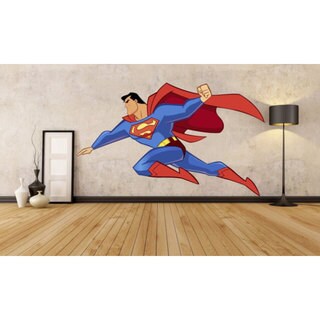 Full Color Superman Wall Decal
At Overstock.com

Personalized Superman Wall Decal
at Wayfair.com

Superman Wall Decal
at Wayfair.com
Price for 12″ size, four sizes available
Your choice of color

ROOMMATES Superman Patriotic Issue Comic Cover
At Amazon.com
Smaller Superman Wall Decals
These are my favorites, I think. The comic book covers are just totally awesome as artwork and totally the issues a collector would want to have. The covers bring in a lot of yellow and allow you to go with a darker blue paint if you prefer that look.

Superman Man of Steel Peel-and-Stick Wall Decals
At Walmart.com

Day Of Doom Decals
At RoomMates
Decals range from 9″ x 11.5″ to 2.75″ x 2.25″
21 decals total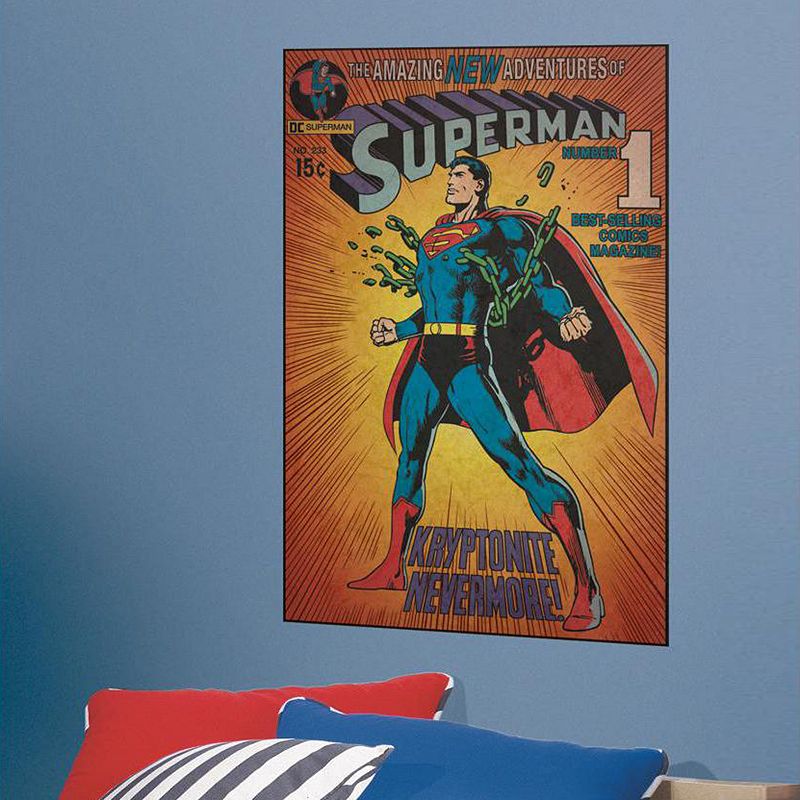 DC Comics Superman Kryptonite Peel & Stick Comic Cover Wall Decal
At Kohls.com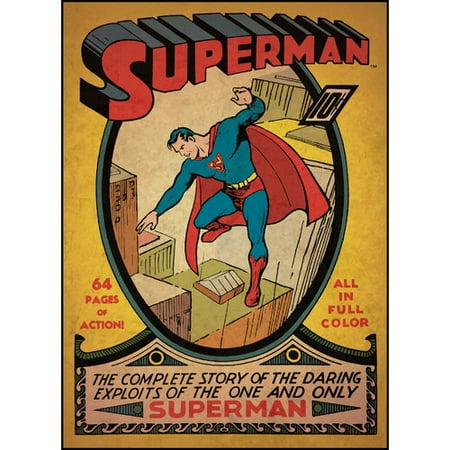 Room Mates Superman Issue No. 1 Comic Book Cover Wall Decal
At Walmart.com

ROOMMATES Superman Patriotic Issue Comic Cover
At Amazon.com
Superman Wallpaper and Borders
I'm not a huge wallpaper fan, but these are pretty cool, bringing in action shots over the city or repeating patterns of the "S" logo. They let you get the theme up in huge chunks to cover the walls. Nice in contrast to bedding with a bigger image on it.

RoomMates Superman: Day Of Doom Peel & Stick Border

Superman Blue Prepasted Wallpaper

Superman – White Super Man Accent Wallpaper
Superman Mural Designs
Go for big and dramatic
Great action shot here of the Man of Steel flying high above Metropolis.

Superman XL Mural 6′ x 10.5′
At RoomMates
Great size for over a chair rail
Comes in 7 panels
Not repositionable, installs like wallpaper
Large size has been discontinued so no more are being printed. Get it while you can!

DC Superman ChairRail Wall Mural 6'x10.5′