One of my favorite things about a surfing-themed bedroom is all the great opportunities for dramatic scenes. Big boards, giant waves, beaches – they all make for wonderful art on the walls. And the easiest way to get them there is with decals. From complete beach scenes to individual elements, there are a lot of choices to be had. Graphics for big waves, decorative boards, beach scenes and action shots to take care of all your decor needs.
I've got things organized with the designs that feature surfers and waves, like the one in the picture here together, then all the board graphics together. Any could work well in a beach themed room, as well as this theme. Lots of bright colors, and several allow you to custom pick the color that works best for your decor.
Check out the options below – individual stickers to place around the room, complete kits to create a scene or large murals. There's a style, size and design perfect for your child's room.
Action Shot Surf Wall Decals
Art with the rider on the board and the waves
These guys have already hit the waves, providing some action scenes for the walls. The pictures catch them just coasting on waves and up in the air. Oh, and there's also a giant wave perfect for setting the background to a surf room. Most of them allow you the option to pick the color you want that will work best with the scheme you've chosen.

Wish You Were Here Poster Decals by Paste Face
At OopsyDaisy.com

Catching A Wave Poster Decals by WP House
At OopsyDaisy.com

Wall Decal Sticker Surfer Wave
At Amazon.com
Your choice of 15 colors

Wallmonkeys The Surfer Wall Decal Peel and Stick Graphic
At Amazon.com
Available in two sizes

Surfer and Wave Vinyl Wall Art Decal 
At Amazon.com

Guy in A Barrel Wall Decal For Home or Office- Surfing Decor – Beach Decal
Big Surfboard Wall Decals
Can't have this theme without one!
Pretty standard image to put on the wall for a surfing-themed bedroom. Especially if you don't have any actual boards to hang up there! These guys don't require any waxing and are easy to install, so bonus there. But they might just make you long for the water even more.

Boards and Hibiscus Flowers Stickers
3 Larger boards measure 20″ x 5″
2 Smaller boards measure 12″ x 3″
17 Flowers are various sizes ranging from 2″ to .5″

Neneleau Hawaii Surfboard Vinyl Words Wall Decal
from: Wayfair

Paradise Wall Decal
Six feet tall, place at angle or straight up and down
Your choice of 16 colors, including metallics

Boards Design Decals
Your choice of 16 colors, including metallics
Boards range from 4'2″ to 5″ tall

Wallpaper Cutout
Pre-pasted wallpaper, not a removable decal

Stoll Beach Bums Surf Board I Wall Decal
from: Wayfair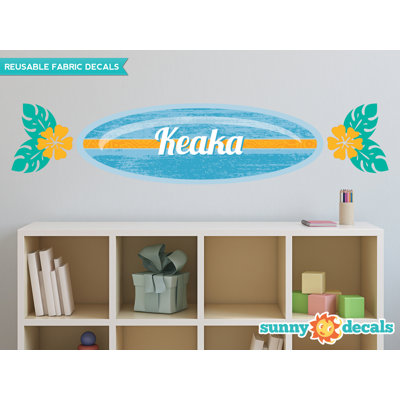 Surf Board with Custom Name Wall Decal
from: Wayfair

Wallums Premium Chalkboard Surfboard Wall Decal
At Amazon.com
Surfing Wallpaper and Borders

Wallpaper Border ~ Surf's Up

CostaCover – Temporary Self Adhesive Removable Wallpaper – Surf Boards
At Amazon.com

Cool Surf Wave Modern Teen Wallpaper Border 
At Amazon.com

Surf Wood Panel Wallpaper
At Amazon.com

Wallpaper Border Surfboards on Wood Fence 
At Amazon.com

Surfboard Seashore Hawaii Wallpaper Border
At Amazon.com

Beach Surf Wave Starfish Retro Wallpaper Border
At Amazon.com

Cool Surf Wallpaper Border
At Amazon.com
Surfing Wall Mural Designs

Kelly Slater Eco Canvas Wall Mural, Atol
At PBteen.com

Wave Rider Surf Wall Mural
At PBTeen.com

Surf Shacks Mural Decals by Vicky Barone
At OopsyDaisy.com

Sunset Surfer on Wave
Prices start at $156 at MagicMurals
Three sizes to choose from or make it custom

Colorful Surfboards
Prices start at $137 at MagicMurals
Three sizes to choose from or make it custom

Surf's Up
Prices start at $150 at MagicMurals
Three sizes to choose from or make it custom

Retro Surfing
Prices start at $100 at MagicMurals
Three sizes to choose from or make it custom
Customizable Surf Murals
These come from Murals Your Way and are customizable in several different ways. They'll add your child's name to the mural, add or remove sections to make it the exact size you need and even change some of the colors on some. Pretty cool. These are just a sampling of the surfing designs they carry. Prices start at around $170 and go up depending on the size, material and amount of customization.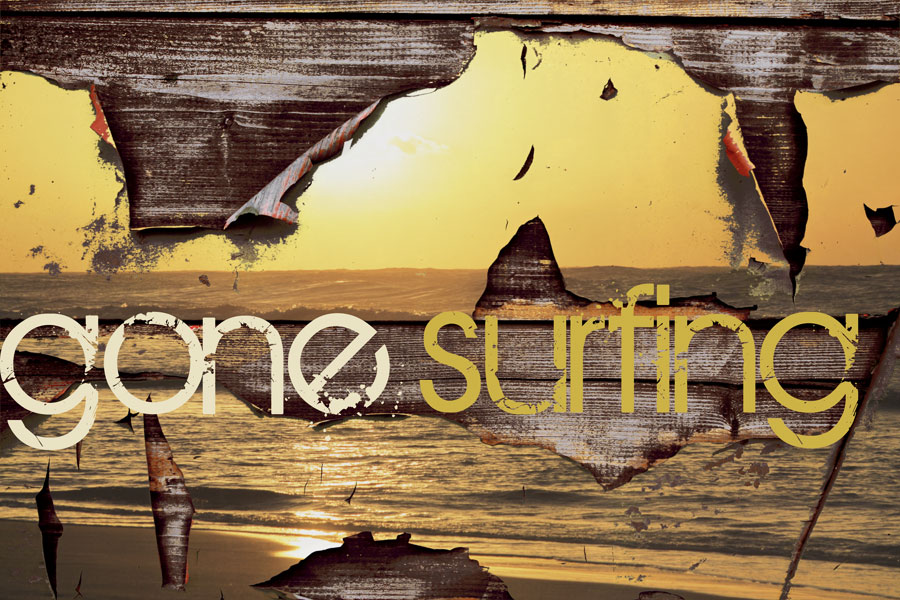 Gone Surfing Vinyl Wall Mural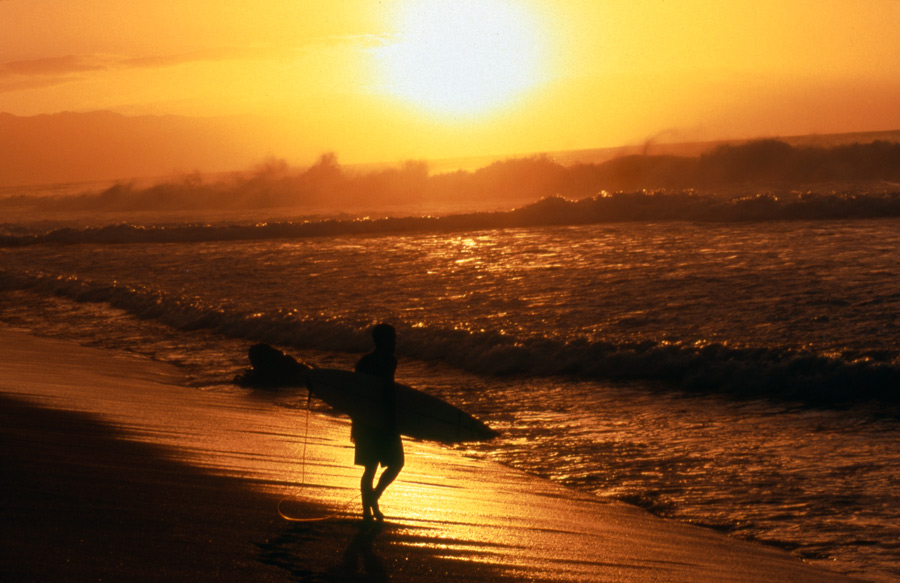 Steps Away, Oahu North Shore Vinyl Wall Mural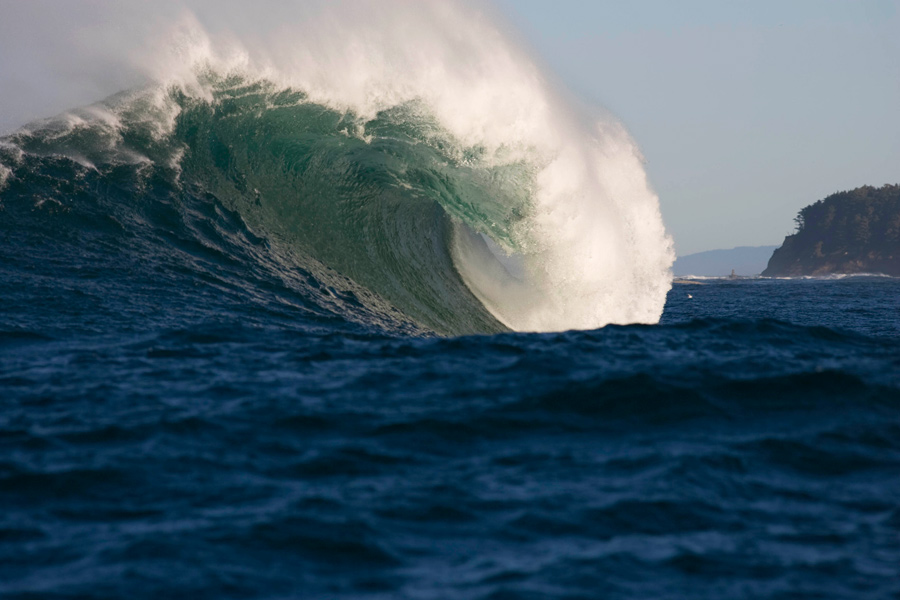 Mavericks California Vinyl Wall Mural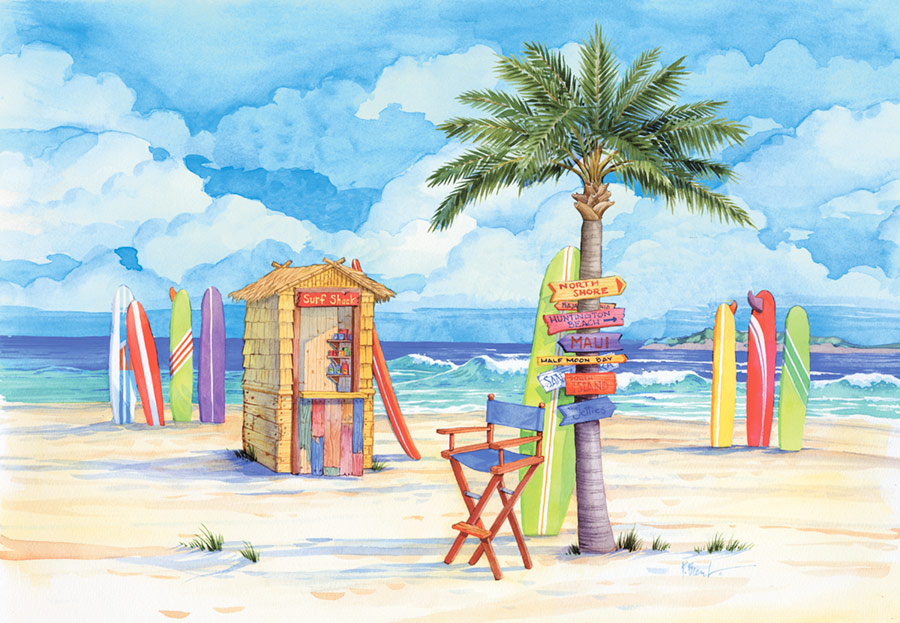 Beach Signs-Surf Shack Vinyl Wall Mural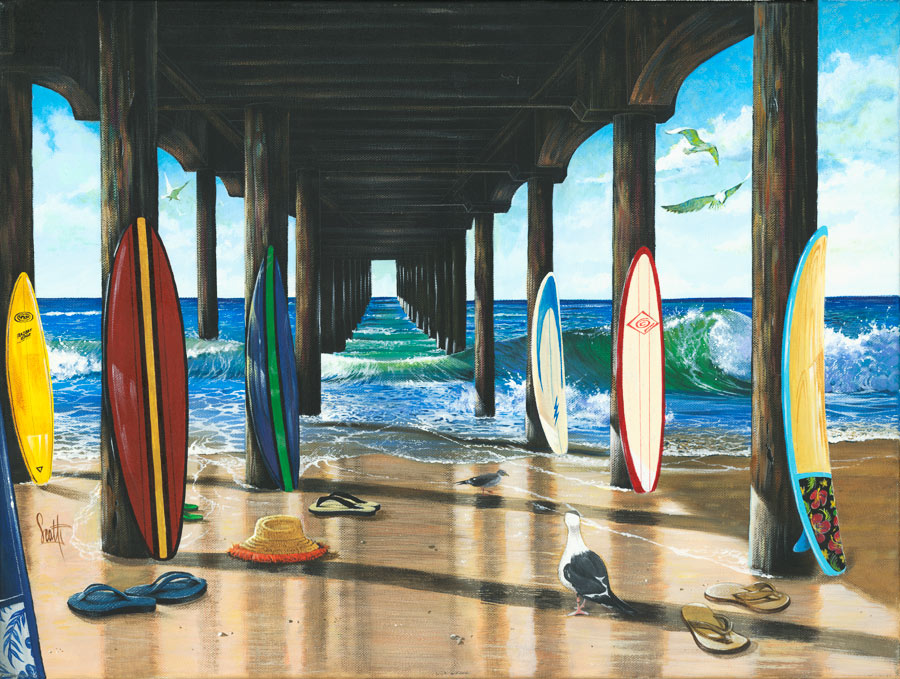 Pier Group Vinyl Wall Mural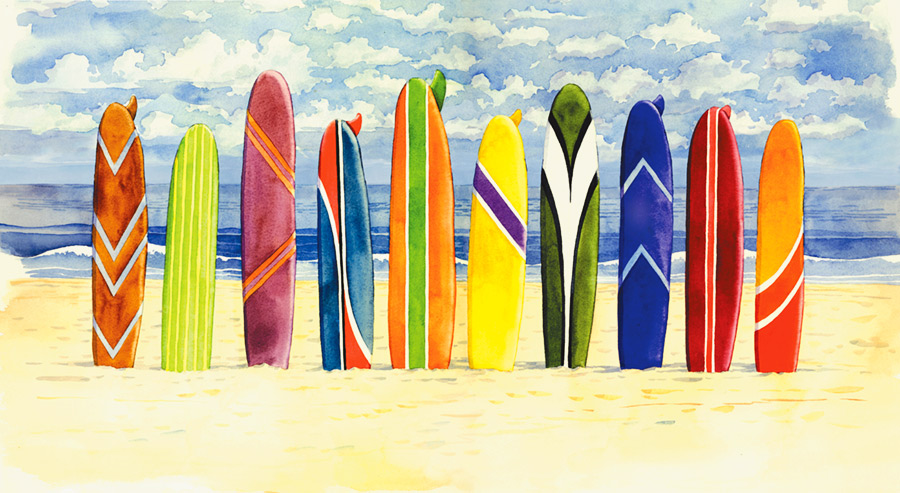 Surfboards Vinyl Wall Mural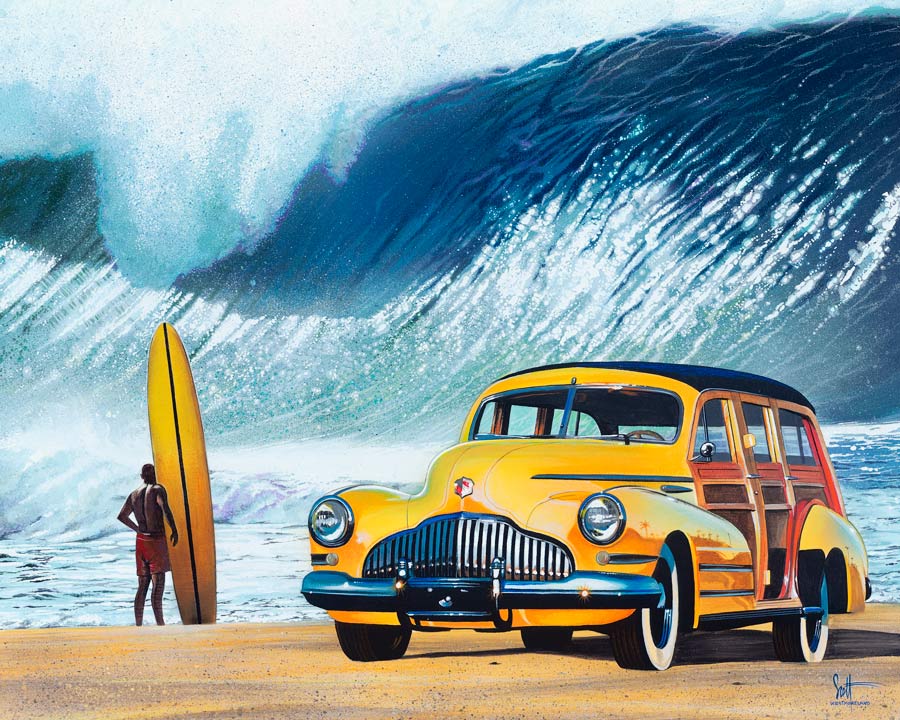 Buttercup Buick Vinyl Wall Mural