Train Wall Decals
Train wall decals come in realistic designs great for the older kid, as well as cute ones perfect for the nursery wall. Choose from oversized images of train engines or designs that include an entire train. Or maybe train-related images like the tracks and tunnels. Any of them make a great addition to a train-themed bedroom for your little conductor.
If you go for something like the silhouettes pictured below, it can be fairly easy to match it up to any bedding set you've already picked out. They tend to let you choose your color from a palette of 8-20 shades and sometimes they even come in different sizes. The more photorealistic graphics and murals require a little more attention to the color details to get them matched with whatever color scheme you've decided on. Fortunately, there's usually a lot of black, blue and red, which are fairly common in boy bedding choices.
Realistic Train Wall Decals
These are some of my favorites since they give you a huge train engine coming out of the wall. Keep the colors in mind if you're trying to match existing bedding. The designs from Fathead are pretty darned big, so make sure you have enough wall space for them. The others come in a variety of sizes, so you can get the once that fits your space (and budget) best.

Fathead Lionel Santa Fe Train
At Fathead.com

Lionel Vision Challenger Train
At Fathead.com

Vehicle Wall Decals – Black Steam Engine Train
Available in five sizes

Vehicle Wall Decals – Steam Engine Train 1

Vehicle Wall Decals – Steam Engine Train 2

Vehicle Wall Decals – Passenger Train
Silhouette Train Wall Decals
Most of these designs allow you to choose a color, which makes it easy to match whatever colors you're using the room. The lack of details in a silhouette also make the graphics a great backdrop piece instead of the focal point. Consider the elements like tracks and crossing signs if you already have a lot of trains in the room, since they go with the theme without overdoing it too much. I especially like the idea of taking the tracks and running them on the walls all the way around the room, or even coming up with your own circling pattern.

Train Tracks
Tracks are 4″ 3/4 X 24″
Two tracks included
Your choice of tons of colors

Curved Train Tracks
6.75″ X 24″
Two tracks included
Your choice of tons of colors

Train Track Tunnels/Signs
Comes on a 13″ X 16″ Sheet
2 tunnels, 2 lights, 2 rail road crossing signs and 2 RR signs
Your choice of seven colors

TRAIN…..WALL STICKERS DECALS ART DECOR, BLACK
Nursery-Appropriate Train Wall Decals
We have a couple more silhouettes here where you can pick your colors, but for the most part, these guys are already full of bright happy colors that should suit any baby or toddler room. These guys range from fairly small – perfect for some art over the crib or bed – to large enough to fill the entire wall. Pay close attention as you choose so you can get an option that suits how you plan to decorate the room.

Wallies Peel and Stick Wall Art, Play Train Ride

Circus Train Wall Decal
from: Wayfair

Kids Wall Decal Train – 65″ x 10″ / 165cm x 25cm – CoolWallArt

Chu Chu Train Wall Decals

Happy Train Wall Decal
Your choice of 32 colors

Train Wall Decals / Nursery Stickers

All Aboard vinyl wall decal train
Multiple colors to choose from

Rustic Railroad Train Wall Decal
At Shindigz.com

ABC Train Wall Vinyl Decals Stickers

Train and Cloud Wall Stickers for Baby Nursery or Kids Room
Choose from four color schemes, including a couple of pinks
Personalized Train Wall Decals
Designs that allow you to add your child's name into the decal

Train Custom Name Printed Fabric Repositionable Wall Decal

Personalized Name and Train Wall Decal
Specialty Train Wall Decals

Repositionable Train Chalkboard Wall Sticker – Large (1152 x 760 mm) Decal

Train Chalkboard Vinyl Wall Decal
Train WallPaper and Borders

Trains Wallpaper Border – Art Deco – Railfans- Bright

Trains Locomotive Railfan Art Deco Wallpaper Border

Brewster Stay on Track Wall Border
Train Wall Murals
I've picked out a few designs here from Wallmonkeys, although they have many more. These come in a variety of sizes (and prices) and I love the two that are elements related to trains but not actually trains. Great in a room where you already have trains in other parts of the decor. After those are some from MagicMurals, again just a few of the many different designs and looks they offer.

Locomotive Journey Mural Decals by Colleen Phelon Hall
At OopsyDaisy.com

Train Station Mural Decals by Jill McDonald
At OopsyDaisy.com

Richard l'Anson – Train Tracks in Snow in Winter Huge Wall Mural

Railroad Track in Nature

Tunnel De Train

Tropical Train
Prices start at $175 at MagicMurals
Three sizes to choose from or make it custom

Vintage Train
Prices start at $87 at MagicMurals
Three sizes to choose from or make it custom

Train Wheels
Prices start at $150 at MagicMurals
Three sizes to choose from or make it custom

Approaching Station
Prices start at $150 at MagicMurals
Three sizes to choose from or make it custom

Connecticut Railroad
Prices start at $150 at MagicMurals
Three sizes to choose from or make it custom
Customizable Train Wall Murals
These come from Murals Your Way and are customizable in several different ways. They'll add your child's name to the mural, add or remove sections to make it the exact size you need and even change some of the colors on some. Pretty cool. These are a representative sample of the train designs they carry. Prices start at around $170 and go up depending on the size, material and amount of customization.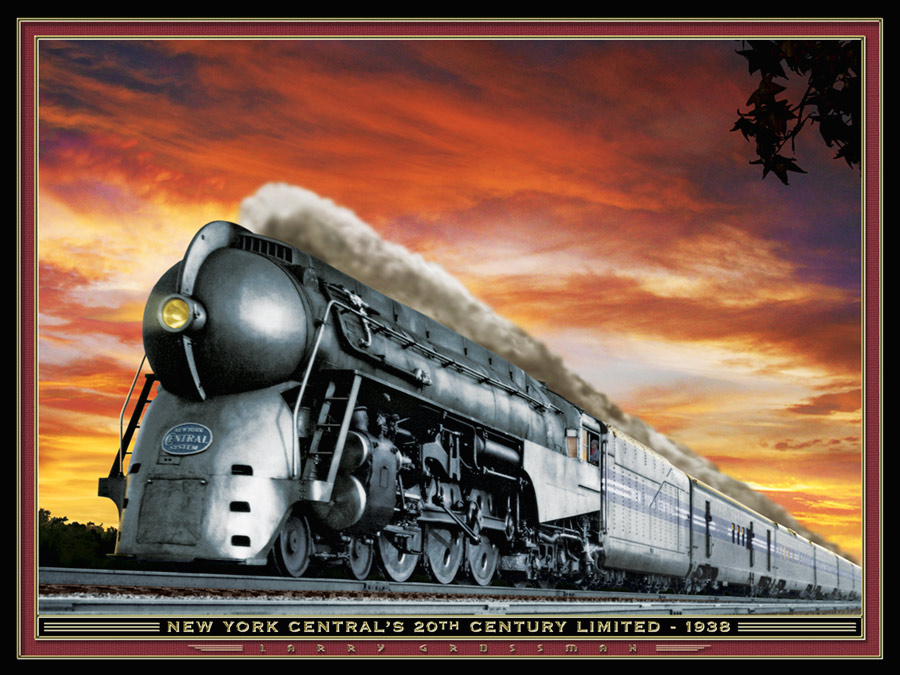 20th Century Limited 1938 Vinyl Wall Mural


Train of Dreams Vinyl Wall Mural