Winnie the Pooh is a great choice for a nursery or toddler's bedroom. The lovable bear is just so friendly and cuddly and colorful. It's no wonder people choose him and his friends to decorate with, and these Winnie the Pooh wall decals make it so easy!
In fact, years ago, I helped my best friend paint a huge mural with Pooh's tree and Rabbit's hole in her little girl's bedroom. It was a lot of work but so awesome when we got done. But with stickers, you can get Pooh up in a much faster, neater and simpler way than we took. Thank goodness, huh? It'd be nice if there was one of that big tree you could use like we did.
Check out the Winnie the Pooh options below – individual stickers to place around the room, complete kits to create a scene or large murals. There's a style, size and design perfect for your child's nursery.
Winnie the Pooh Wall Decals

Pooh and Friends Outdoor Fun Giant Wall Decals
At RoommatesDecor.com

Winnie The Pooh Collection
At Fathead.com
Collection includes the four friends along with honey pots, bees, butterflies and dragonflies

Roommates Toddler Peel & Stick Wall Decals
Softly colored scenes of Piglet getting hugs
Lots and lots of butterflies and honey pots too

Winnie the Pooh "Live to be 100" Peel and Stick Wall Decals
At RoommatesDecor.com

Pooh and Friends Peel & Stick Decals
At RoommatesDecor.com

Blue Mountain Wallcoverings Lazy Daze Pooh 4-Piece Self-Stick Wall Art
Giant Character Graphics
Get separately or as a set

Pooh and Piglet Peel and Stick Giant Decal
From RoommatesDecor.com
Assembled Pooh w/balloons measures 21″ wide by 52″ tall, Piglet 5.75″ wide by 13.25″ tall

Tigger Peel and Stick Giant Decal
At RoommatesDecor.com
Assembled Tigger measures 25″ wide by 32.75″ tall

Eeyore with Balloon and Butterflies Giant Peel and Stick Decal
At RoommatesDecor.com
Assembled Eeyore measures 24″ x 17″
Familiar Quotes
Great sentiment to encourage your child

Christopher Robin Quote
12″ X 30″
Choose from 15 different colors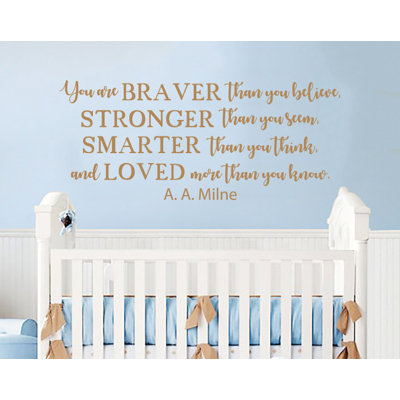 Winnie The Pooh Quote Mural Wall Decal
from: Wayfair

Quote Winnie the Pooh Wall Decal
from: Wayfair
Border Designs

Pooh & Friends Toile Wall Border
At RoommatesDecor.com

Blue Mountain Wallcoverings Pooh Scenic Prepasted Wall Border

Blue Mountain Wallcoverings Pooh Cameo Self-Stick Wall Border, 5-Inch by 15-Foot
Wallpaper Designs

Toile Pooh Wallpaper
Cream or green
Mural Stickers

100 Aker Wood Map
At RoomMates
Map measures 27″ wide by 40″ tall

Pooh and Friends XL Wall Mural 6 x10.5 ft
At RoomMates
Pre-pasted